Hello everyone!! I have decided to do something a
little different than what I normally do. I have noticed
that there are a lot of challenges going on and I decided
I wanted to do one of my own. I give you:
The Cranberries and Crescents Autumn Writing Challenge!
About:
The CACAWC (Cranberries and Crescents Autumn
Writing Challenge) will last through all of Autumn.
It will begin the 18th of September and will end the 22nd of
December.
For each chapter (basically each week) I will give you 2-7 challenges.
You do not have to complete ALL of them, some are optional.
Your chapters do not have to be long, you can make them short too.
This challenge was created because I know that school has an effect on all of us,
and many of us stop writing. I already have. :(
I would like EVERYBODY to enter.
You might think you're not such a great writer, or you think you
don't have enough time. THAT'S OK!!!
Just sit down and write a sentence.
Just a sentence.
Rules:
Start with NOTHING but a blank paper and a pen (or pencil)
If
WHEN you enter, comment down below telling me you want to enter,
give me a link to your blog, and place this button on your sidebar.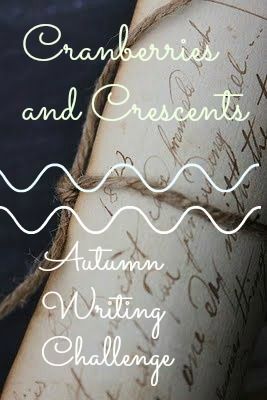 You MUST follow the challenges I will post for each chapter.
Try to write one chapter a week.
Post your chapters on your blog. If you don't have a blog,
send them to petalo8734@gmail.com so I can see them. :)
Don't stress and HAVE FUN!!
In a while!!