Hello everyone! Today I wanted to wish you a happy spring and tell you
what we usually do to celebrate Spring.
You might not know this, but I am half Iranian. And in Iran, celebrating Spring is a HUGE
celebration. You're probably wondering why are we doing all this celebrating JUST
for Spring? Well, in Iran, the first day of Spring is the beginning of a new year.
So just like people celebrate the Chinese new year, we celebrate the Iranian new year. (Yes, I do celebrate both.) To celebrate the new year, we give each other gifts, spend time with family, and of course have a Sofreh Haft Seen.
WHAT in the world is a Sofreh Haft Seen?
Hold on, I'm getting to that.
Every single item in the Haft Seen symbolizes something.
In Farsi, Haft Seen means seven "S's" and "sofre" means "tablecloth." So it is literally
the "tablecloth with seven S's." There are seven items on the tablecloth that begin with the letter S in Farsi and also symbolize life and prosperity.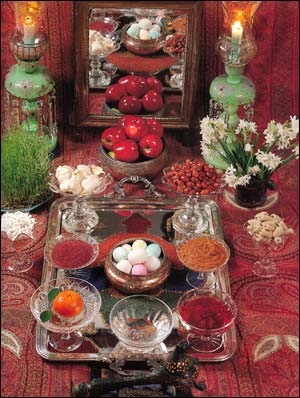 Unfortunately, this picture is not my own. I would have showed you our Sofreh, but the
pictures were not uploading. Hopefully I will show them to you in another
post. :)
Click
here
to learn more about the Haft Seen.
Thanks for reading!
In a while!!